We are an agency established by and for people who appreciate quality in both their business and personal lives.
PHOENIX ASSOCIATES was established in 1975 to provide metropolitan Atlanta and North Georgia insurance buyers with comprehensive coverage, superior service and competitive pricing.
Since its beginning with two partners and one employee PHOENIX ASSOCIATES has grown to include a staff of fifteen professionally trained personal and commercial insurance specialists. Now serving the insurance needs of over 5,000 policyholders throughout the states of Georgia,South Carolina, North Carolina, Tennessee, Alabama and north Florida. PHOENIX ASSOCIATES also writes Employee Group Benefit coverages as well as Individual Life, Medical, Disability and Long Term Care insurance. Our agency is also now the largest provider of insurance programs for individually owned Child Care Centers and Private Schools in the southeast.
As members of the Professional Insurance Agents Association, we represent a carefully selected group of financially sound, reputable insurance companies. We place insurance with the company offering the best coverage, coverage that is both competitively priced and supportive of the good service our policyholders have come to expect.
At PHOENIX ASSOCIATES claims are not an inconvenience; they are an opportunity. Since we are not employees of any insurance company, at the time of an insured loss we always represent your interest first. We are absolutely committed to see that you get a prompt and fair settlement. We hope you rarely need to report a loss, but in such an event, you'll find that when you need us the most we are at our best!
Why do business with Phoenix Associates Insurance Agency?
Unlike a captive, or direct insurance company who only offers their own proprietary products, our agency is 100% independent of any one company. Many insurance consumers don't fully understand just how important that really is.
When it comes to something as important as insurance, it's imperative that you work with an agency who has an in-depth knowledge of multiple insurance products, companies, and guidelines — not just one.
At the end of the day, what separates one agent from another, is their ability to proactively service their policy holders, and their knowledge of the insurance industry, products, and different situations that may present themselves to their clients.
Independent Agent Vs. The Rest
Here is a quick comparison of the differences between an independent agency like us, and the various other types of companies that are out there: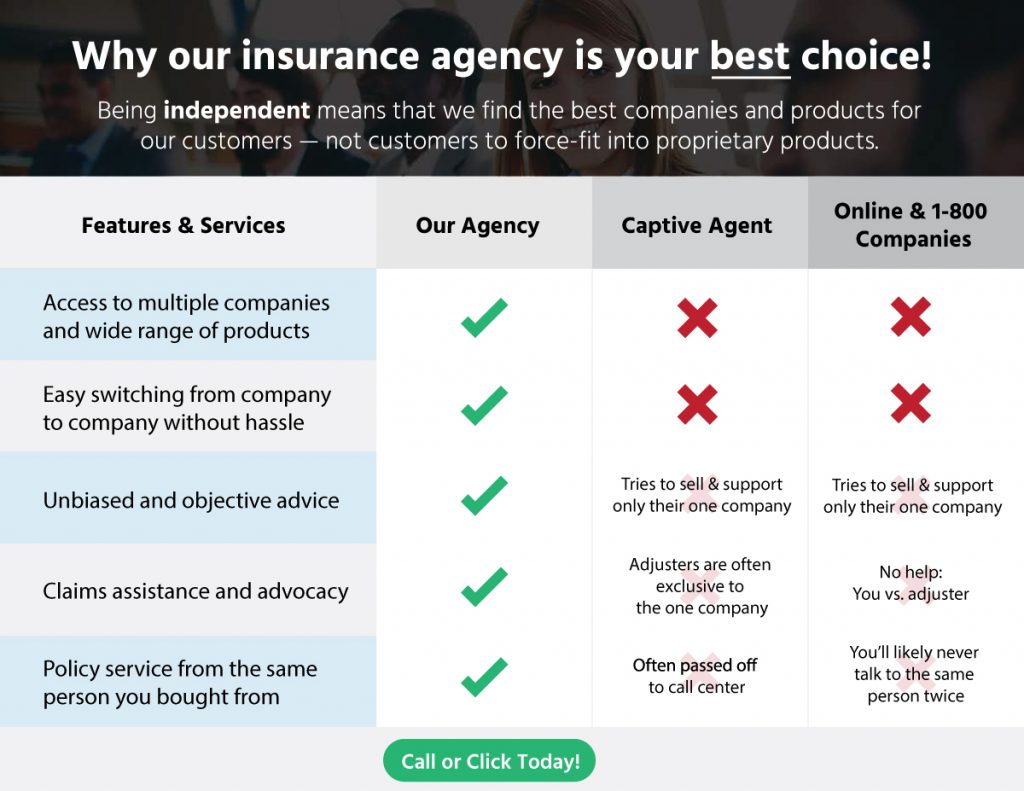 If you'd like to get started with a complimentary quote and/or policy review, we'd be happy to help you any way we can. Simply complete the fields below to get started online in a matter of seconds.
We appreciate the opportunity to help you, and look forward to servicing your insurance needs! Feel free to call us directly if you have more detailed questions.